DOMESTIC VIOLENCE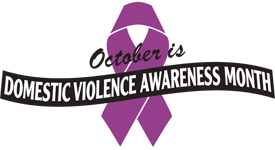 In October 2010, President Barack Obama proclaimed the first National Domestic Violence Awareness Month. As the president stated in his proclamation, ending domestic violence requires a collaborative effort involving every part of of our society. Our law enforcement system must work to hold offenders accountable and to protect victims and their children.
Sadly, Domestic violence is one of the most prevalent violent crimes in Marin County. The San Rafael Police Department is committed to working with the Marin County District Attorney's Office and all service providers in the community to minimize the impact on the people involved and achieve successful prosecution of these cases.
Please take a moment to remember the victims and people impacted by domestic violence in Marin County.
Resources:
National Domestic Violence Hotline:
1-800-799-SAFE
http://www.thehotline.org
Marin Center For Domestic Peace:
http://www.c4dp.org
No one has to suffer alone (PDF)
No one has to suffer alone (PDF Spanish)
San Rafael Police Department:
1400 Fifth Avenue,
San Rafael, CA 94901
Emergency: 911
Non Emergency: 415-485-3000