Author: PIO Margo Rohrbacher
Date: March 01, 2012 4:34 PM

Police Request Help to ID Gas Station Robber
San Rafael, CA – March 1, 2012. San Rafael Police are asking for the public's help in identifying the suspect in a series of armed robberies at Terra Linda gas stations.
Today SRPD detectives released a composite sketch and video surveillance footage from two recent robberies. Based on the suspect's actions and similar physical description, investigators believe the same person is responsible for both crimes.
On February 14th at 1:30 p.m., Gateway Gas on Northgate Drive was robbed by a lone gunman who displayed a handgun to the cashier, demanded cash and escaped on foot. He was last seen running towards Manuel T. Freitas Parkway. The cashier described the suspect as a tall, thin male, 20 to 30 years old, with a light mustache and facial stubble. He wore a black baseball cap with a "New Era" foil sticker on the bill and a black hooded sweatshirt. The suspect can be seen in the video below.
On February 28th at 11:00 a.m. the suspect depicted in the sketch entered the Union 76 Gas Station on Del Presidio Way and approached the clerk. He threatened him with a handgun and demanded cash. A struggle ensued and the suspect struck the clerk in the head with the gun and then fled. The clerk was treated at the hospital for his wounds and later released. The suspect was a white male, 20's to mid 30's, 6' to 6'6" with a slender to medium build. He had shoulder length blond hair held back in a braided pony tail and facial stubble.
Anyone with information about this crime is asked to call San Rafael Police at (415) 485-3000 or Crime Stoppers at (800) 222.8477. This phone number will accommodate all languages. Callers can remain anonymous and may earn a possible reward. Tips can be made online at www.bayareacrimestoppers.org.
Information can also be provided by using the SRPD Silent Witness tip form available at http://www.srpd.org/tips.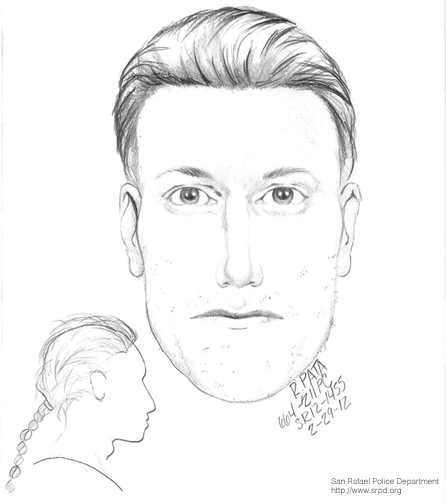 # # #
Last Modified: March 01, 2012 5:02 EST (by Holm)