Author: PIO Margo Rohrbacher
Date: November 15, 2012 7:59 PM
Case Number: SR12-08823

Sketch Released of Armed Intruder
San Rafael, CA – November 15, 2012. San Rafael Police have released a sketch of the armed intruder who terrorized two college students in their apartment on Tuesday night.
On Tuesday at 10:30 p.m. a man armed with a knife gained entry to an apartment in the 200 block of Playa del Rey. The residence is shared by four female college students. Two of the roommates were out and the other two, age 18 and 19, were upstairs watching a movie in their room. The suspect entered the bedroom holding the knife and confronted the terrified young women. A very violent struggle began between the 19 year old and the suspect as the other victim was calling 911. The confrontation began in the bedroom and progressed down the stairs, through the house and out the back door into the patio and yard, culminating in the carport where the suspect broke free and ran.
The suspect is described as a Hispanic male, 18 to 25 years old, between 5'4" and 5'7" with a thin build. He has dark skin, high cheekbones, and prominent ears. He has a skin irregularity on both cheeks, dark circular spots described by the victim as "sun spots". The suspect received substantial facial injuries and possible stab wounds to the upper body and he may seek medical attention for his wounds. All hospital emergency rooms and clinics in the Bay Area are asked to be aware and call 911 if a patient matching his description is seen.
This was a very violent crime and the suspect should be considered armed and dangerous.
Anyone with information about this crime is asked to call Detective Sergeant Mike Vergara at 415.485.3195 or Crime Stoppers at (800) 222.8477. This phone number will accommodate all languages. Callers can remain anonymous and may earn a possible reward. Tips can be made online at www.bayareacrimestoppers.org.

Information can also be provided by using the SRPD Silent Witness tip form available at http://www.srpd.org/tips.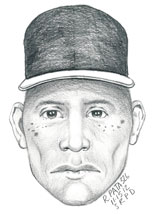 (Click above image for larger version)
# # #
Last Modified: November 15, 2012 8:14 EST (by Holm)